Cafo (Cheshire animal fundraising organisation) held their summer fete fundraising day today (26th June 2021) at Underwood Lane Social Club.
The weather was fantastic and there were many stalls attending to help raise money for the local cat rescues that Cafo help out, such as
Emergency Cat Hotel
Helping Winsford Paws
Ollie & Friends Cat Rescue
Some of the presenters from Sonnet Radio went along to see what was happening and meet some of the people who organised the fair and work tirelessly 24/7 in the many rescues – special mentions go to April Lysons, Sue Steele, Sarah Lysons, David Rockey, Susan Rockey. Rach Maria James and Gina O'Neill!
There were also stalls from Men in Sheds showing off some of their fantastic homemade wares, name the bear, mystery bottles, homemade cakes, books, CD's, pet toys / equipment, and handbags, gifts, and toiletries on sale from some small businesses. The Tombola stall was a popular attraction, as were the various raffles and games being held to win a wide range of items that had been donated to the relevant organisations.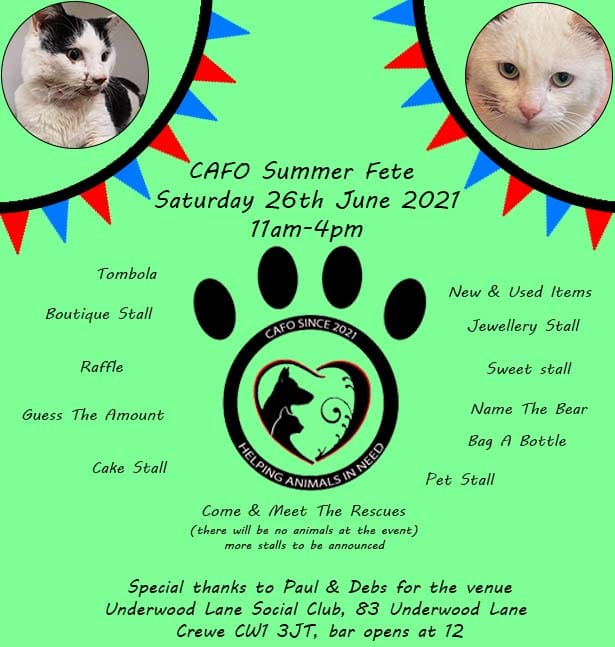 The non-profit organisation known as cafo2021 was set up earlier this year to help local animals in need at the various rescues. They pay for the medical care of the rescued animals plus any spaying, neutering, chipping, jabs, and tests etc. In addition to fundraising via their rescue selling page on Facebook, they run the Lost Pets in Crewe and Nantwich page. You can see details of the cats recently rescued and helped by cafo at https://www.facebook.com/Cafo-Cheshire-animal-fundraising-organisation-335482021227976/ – they would love to have more supporters to help them fundraise, so do have a look if you would like to give a cat a loving forever home, make a donation or can offer assistance in any way.
The main rescues pages can be found here:
Emergency Cat Hotel – https://www.facebook.com/groups/519445604918330
Helping Winsford Paws – https://www.facebook.com/groups/helpingwinsfordpaws/
Ollie & Friends Cat Rescue – https://www.facebook.com/Olliescatrescue
Charity Tuesday in Association with Sonnet Radio.
If you have a charity or community news or event, let us know about it on Social Media. Or you can tell us about it via email. Click on the email image to complete our contact form
Charity Tuesday on Facebook
Charity Tuesday on Twitter
What is your opinion of this post?