The Lockdown Freebie Wall – Update
From April 11th 2021, the lockdown Freebie Wall will no longer be open on a daily basis. The relaxing of Lockdown guidance means that charity shops can reopen again and thus The Freebie Wall is not accepting donations at this time.
But fear not, the Freebie Wall will return as planned events over the coming months. Keep an eye on the Facebook page for updated news.
Sonnet Radio would like to pay tribute to Sarah for all she has done in the community, for the community with the Lockdown 3 Freebie Wall since January 2021.
Original Story
News reached Sonnet Towers of a community project on the outskirts of Crewe. Named the Freebie Wall, it enables local residents to 'freecycle'. We wanted to know more! A quick search on Facebook showed us a project that has had over 1300 'likes' and boasts 1600+ 'followers'.
Stephanie Jay, presenter of the Perfect 80's and Club Sonnet here at Sonnet Radio, went to see what it was all about. She met up with Sarah who runs the Freebie Wall from her home to discuss and see for herself what the Freebie Wall was, how it worked, and to find out how it benefitted the community.
What is Freecycling?
Freecycling is a popular way these days of donating items such as clothes, CD's, Books and electrical items etc. that you no longer want, that could be taken on by someone else who needs them – and all for free!
The Freebie Wall in Crewe has gone from strength to strength during the pandemic. Sarah ensures that Covid restrictions are adhered to in operating this valuable community resource. Donated items are quarantined before being offered to visitors and she asks callers to respect social distancing and the wearing of face coverings, unless that person is exempt from doing so under the law.
What is the Freebie Wall?
The Freebie Wall is an unsupervised community freecycling project which began at the start of the first UK lockdown in March 2020 when the charity shops & local tips were closed. A couple of people remembered that Sarah had a local free site on Facebook. It started life with the purpose of helping out vulnerable locals who needed to offload unwanted items, who were either unable to post on Facebook themselves, or didn't want strangers coming to their homes.
This led to unwanted items from lockdown 'de-clutters' getting left on Sarah's doorstep! Sarah told us "I tried a 'Freebie Yard Sale' set up to make the goods available to anyone else who might want or need them, but even with signage, most felt uncomfortable about 'trespassing' or confused as to how this worked with Covid restrictions".
The front wall of the property meant that people could access the free goods & remain on a public pavement while on their way to work, the chippy, the local shops or the Georges Playing field…..and so The Freebie Wall was born!
In September 2020 The Wall got its own Facebook page, meaning that interested followers from outside of the area could still benefit from all of the mail order freebies, free trials & samples that were posted on the page.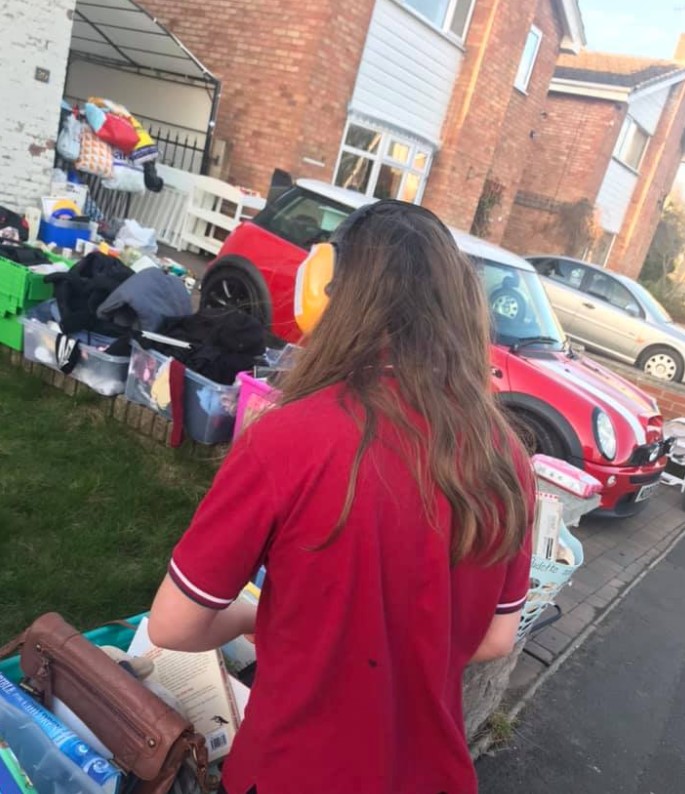 Where is the Freebie Wall?
Sarah told us "Our location is highlighted in the 'about' section of the Facebook page". You can FOLLOW THIS LINK to the Facebook Page, which will bring up the location on the map & a description of where the Freebie Wall is located (in case your Sat Nav decides to send you on a magical mystery tour)!
Sarah added "You can check in while you're here because of this section of the page being available. In fact, when the Track & Trace system was introduced, visitors were able, and encouraged, to check in to the Freebie Wall. However, being perfectly honest with you, to date we have had 6 'check ins' in total – and 2 of them are from me"!
Steph asked Sarah a few questions to understand in more detail how the Freebie Wall worked.
"Where can people leave their donations"? "Do they have to be brand new"?
"It's the same set up as how it started in the very beginning, when an unknown person decluttered their shed & thought 'I know where I can take this!' and it all ended up here"!
"During the current restrictions, anyone can simply leave donations on the doorstep, whenever they are passing, at their own convenience. People with items to donate don't need an appointment, and don't need to give notice".
"Goods that can be accepted can be anything from brand new to 'a little bit of life left in it' – basically anything that can be saved from landfill and loved by others. They might be unwanted by the previous owner, but it could be perfect for someone else. The item that holds the record from being dropped off to a new owner collecting, was a glass turntable dish from a microwave oven – the finder had shattered hers while doing the washing up that morning & couldn't believe her luck"!
"Bear in mind that we're into Lockdown 3 now & most are looking for new hobbies & pastimes that don't involve screens. A large percentage of goods on The Wall get upcycled or repurposed".
"Are there any items you don't accept"?
"The only items I am unable to take at the moment are larger pieces of furniture & white goods, simply because I don't have the indoor storage space overnight or during the bad weather at the moment"!
"However, you can still post in the 'Free Stuff Crewe & Nantwich group' & request that members collect from you safely at your convenience".
"What sort of things have you got"?
Sarah relied "You might be better asking how long is a piece of string? Yes, I do sort through all of the items myself, but once those goods go out on The Wall, they're available for anyone to take them. So even if I say 'Yes, I put a Moses basket outside today' that's no guarantee that it'll still be there by the time you get here! I am unable to reserve goods for anyone, that is not how the Freebie Wall works! The items we have are constantly changing around. The only way to answer this question properly is to come down and see what we have for yourself".
"What days & what time is the freebie wall open"?
"It varies really. During the restrictions I will try to keep it open from early until late every day. But the Freebie wall is run by just one volunteer (me!) and I seem to have many other commitments at the moment. Mother Nature also plays a big hand in the opening times too"!
"Who is entitled to take the freebies, do they need to bring proof of earnings or fill in any forms"?
"No! Anyone can take whatever they want or need for their own personal use or for family & friends. The golden rule is that the items kindly donated and collected are not sold on to make money, that would be really unfair and not what the Freebie Wall is for".
"What if a visitor finds something that they don't need personally, but know that a friend/neighbour/family member does?"
"Simple! Take it for them. You can drop it off with them or get them to pick it up from you. People are always phoning their nearest & dearest with, 'Hiya, I'm at The Wall & they've got a lovely coat that'll fit your 'so & so' – does he still need one?'. I think that shows the value of the Freebie Wall to the community".
"What if visitors get something home & it's not needed after all? Like clothes from a mixed bundle"?
"Visitors can re-donate anything the next time they visit. There will always be people who can use that item, so there would almost certainly be someone looking for what you have".
"Do you deliver"?
There is a Peter Kay joke in there somewhere, thought Steph! Sarah told her "I'm sorry but we are unable to deliver any items, collection is the only available option".
"My friend's brother's uncle reckons the Freebie Wall is a scam. How can you prove otherwise"?
"All I can ask……okay BEG…..is that every person who has benefited from accessing the facilities to leave feedback in the reviews on Facebook. Independent comments and reviews hopefully show that the Freebie Wall is legitimate. If anyone has any concerns, please visit and see for yourself how it works".
"Is it true that you get first dibs on all the good stuff"?
"Absolutely not! Everything donated is quarantined for a short while and then put out for anyone to fall in love with and take home. If all of our visitors left reviews on Facebook this would be a great help in proving that it is totally untrue and unfair to think I would benefit myself over others. All I can say is come on over to the Freebie Wall to see all of the fantastic freebies waiting to be taken away for yourselves, and to see how it all works".
"Do you follow Covid guidelines and restrictions"?
"Absolutely yes, I do! All donations are taken aside for the recommended isolation time. Social distancing must be adhered to at all times & I'm spending a small fortune on hand sanitizers which keep going walkabout. It would be really lovely if visitors could bring their own sanitiser if possible".
Sarah added "Please be aware that due to current government guidelines & restrictions, visiting from outside geographical area's for 'a bit of a mooch' isn't classed as essential travel. You could face a possible fine for doing so. Please respect the current regulations and guidance".
"What if visitors spot something they really want, but it's behind the gate in quarantine"?
"There are strict procedures I have to follow in order to remain open during the restrictions. Taking items from behind the gate is not allowed under any circumstances. Items behind the gates may be allocated as a raffle prize for the rescue charity, or it could be one of my own personal possessions that I hadn't planned as a donation"!
"Breaking current regulations could also result in the Freebie Wall being closed down and the community losing what has become a valuable resource. Please ignore everything behind the gate, it will find it's way onto the Freebie Wall when the regulations allow. There is CCTV behind the gate to protect everyone and will be shared if necessary".
"What if visitors spot something they really want, but it's behind the gate in quarantine"?
"Mainly because it is a team of 1, which is just me! As I mentioned earlier, I have a growing list of commitments and things I am involved with. I single-handedly run The Hidden Book Club, help out voluntarily at Willowsway cat rescue & have a family of my own to look after as well as running the Freebie Wall! Please be patient and I'll try to reply to queries as soon as I can"!
….and finally
So, there you have it! The Freebie Wall is there for everyone to donate or collect items to freecycle pre-loved items into re-loved items. There is no charge for the Freebie Wall. If you wish to and are able to leave a cash donation to go to a good cause, you are more than welcome to. But there is no pressure of obligation to do so at all.
Go and take a look for yourselves if you are able, just remember to adhere to all current restrictions.
"I must admit" said Steph, "I wasn't that that 'clued up' on things like this – freecycling, upcycling etc. It's been an eye opener for me, and I think I have actually learned something new (and gained a couple of CDs in the process)"!
"Sarah is so passionate about helping the community, she volunteers so much time and effort into different causes. Her reward is seeing the joy of others when they find 'that' item. It's a remarkable thing to experience first-hand".
What is your opinion of this post?